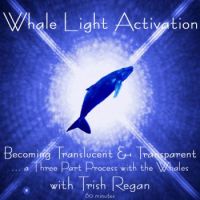 Whale Light Activation Process (MP3)

(MP3 Download)
About the Whale Light Activation:
This CD takes you through your body within the consciousness of the whales. Using their powerful whale song, along with Trish's resonant toning, they help you to become translucent (awakening the Light within every cell) and transparent (clearing any blocks to shining your soul's Light and Brilliance into the world.)

Three Stages

1. Body Energy Awareness:
We will enter our hearts, beginning there, and with our consciousness travel throughout the body bringing awareness to and accessing any areas of energy blockage.

2. Whale Song Clearing:
The sounds of the whales will awaken the soul of each cell of our bodies enlightening the heaviness within so that we may release the blocked energy and become translucent, allowing our inner Light to illuminated every cell.

3. Transcendent Toning:
The whales will channel through my voice high frequency tones which will assist the boundaries of the body to become transparent allowing the transcendent Light within us to shine forth unimpeded by our resistance.